Medlinket's temp-pulse oximeter realizes five major health detection functions
With the surge in healthcare expenditures, frequent changes in people's lifestyles, high disposable income, increased prevalence of cardiovascular diseases, and an increase in the elderly population, factors such as the growth of the global oximeter market. Compared with other types of oximeters, finger clip temp-pluse oximeters have lower cost, so finger clip oximeters have the highest demand in the global smart oximeter market. Medlinket's finger clip temp-pluse oximeter, with professional research and development and strong technical support, has won the favor of the market public.
With the continuous epidemic in recent years, the demand for oximeters has been experiencing explosive growth. In a good market, there will be profits, and if there are profits, various problems are prone to occur. Therefore, for example, fake goods are rampant, shoddy and so on. Therefore, when buying an oximeter, you still have to believe in the strength of the brand. In the face of fierce competition from peers, Medlinket's finger clip temp-pluse oximeter has obtained professional clinical certification after years of research, and its accuracy is consistent with the professional readings used in hospitals. Customers who have bought a Medlinket oximeter will leave a good comment.


These are comments left by customers who have purchased our products, which fully expresses the professionalism of Medlinket's oximeter in accuracy.
Finger-clip oximeter not only monitors the health of the body, but also has a high cost performance, compact and exquisite product, which can be used in hospitals, clinics, outpatient surgery centers and home care environments. At present, the proportion of oximeter in the market has been rapidly increasing, and in the future, it will become a must-have for families like a clinical thermometer. Those counterfeit and inferior products will eventually be eliminated by the market. You still have to trust the brand in the choice. We believe that Medlinket will become a group of "dark horses" in the medical industry, and the future development is immeasurable.
When purchasing oximeter products, focus on product appearance and product quality. Medlinket's finger clip temperature pulse oximeter is simple and elegant in appearance. The shell is made of fresh blue and light gray, the color is soft and soothing, the line is soft and smooth, and the appearance is very beautiful and durable. After turning on the device, the display interface can be switched, and the waveform interface and the large-character interface can be selected. Four-direction display, horizontal and vertical screens can be switched autonomously, which is convenient for measuring and viewing by yourself or others.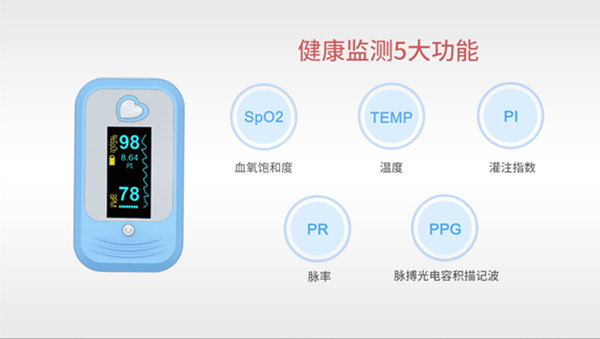 Functionally, it can measure multiple parameters to achieve five major functions of health detection: such as SPO2, pulse PR, temperature Temp, low perfusion PI, respiration RR (customization required), heart rate variability HRV, PPG blood plethysmogram, all Azimuth measurement. Single measurement, interval measurement, 24h continuous measurement can be selected; intelligent alarm can be customized to set the upper and lower limits of blood oxygen saturation/pulse rate/body temperature, and the alarm will be automatically prompted when the range is exceeded.
Medlinket's finger clip temp-pulse oximeter can be equipped with different types of accessories according to the different needs of users. An external SpO2 sensor/temperature probe can be used for different patients such as adults/children/babies/newborns; according to different groups of people and different department scenarios, the external probe can choose finger clip type, silicone soft finger cot, comfortable sponge, and silicone Wrapped, non-woven wrap straps, etc. are equipped with sensors; you can choose to clamp your fingers for measurement, or you can choose wrist-mounted accessories for wrist-worn measurement. All you need to do is to choose to purchase additional Medlinket-specific accessories to meet your various monitoring needs.
In addition, Medlinket's connected temp-pulse oximeter has the function of connecting to Bluetooth, docking with the MEDXing Nurse APP, real-time recording and sharing to view more monitoring data. At the same time, we have attached a detailed manual, which is very helpful for understanding the principle behind this oximeter. At the same time, we provide a QR code, which can be scanned to watch YouTube videos, so that you can learn more about the product.
Related Products