Medlinket Temp-plus oximeter, the patron saint of healthy life

This is the true evaluation of Medlinket Temp-plus oximeter's foreign customers on our products, and sent an email to express their gratitude and satisfaction. We are very honored to receive feedback from customers on our products. For us, this is not only a recognition, but also the best motivation for us to continue to work hard on the professionalism and high quality of our products. We will continue to give play to our own advantages, continue to innovate and improve, so that Medlinket's oximeter will become more brilliant in the international medical industry.
Medlinket's Temp-plus oximeter has a good reputation in the international market. Many customers who have used it will actively feedback the advantages of Medlinket's oximeter. This is undoubtedly the most powerful spiritual motivation for Medlinket's products to enter the world. . Behind the positive response of customers, Medlinket is inseparable from the professional R&D and strong technical support of oximeters.
After years of continuous research, Medlinket's Temp-plus oximeter has obtained professional clinical certification in measurement accuracy. The measurement error of SpO2 is controlled at 2%, and the temperature error is controlled at 0.1℃. It can achieve SpO2, temperature, and pulse. Accurate measurement meets the needs of professional measurement.
Safe, efficient and portable is also another advantage of Medlinket's Temp-plus oximeter, because it is exquisite, compact, easy to carry, not restricted by time and place, and is very convenient and fast. Patients do not need to go to the hospital to queue up for appointments, and SpO2 can be measured at any time at home. This not only saves time, but also reflects the patient's current physical condition in a timely manner, effectively guarantees the patient's health, and facilitates timely remedial measures.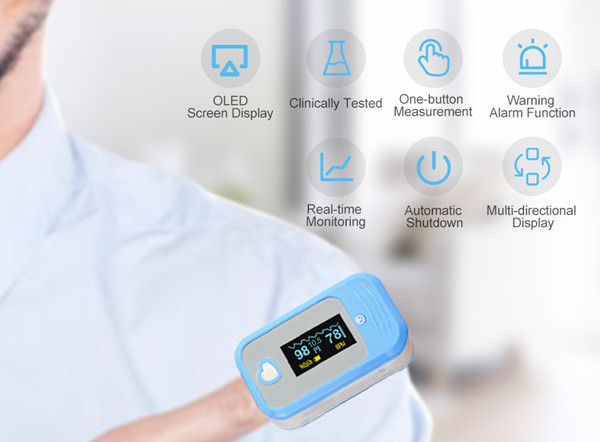 Product advantages:
1. An external temperature probe can be used to continuously measure and record body temperature
2. It can be connected to an external SpO2 probe to adapt to different patients and achieve continuous measurement.
3. Record pulse rate and SpO2
4. You can set SpO2, pulse rate, upper and lower limits of body temperature, and prompt over limit
5. The display can be switched, the waveform interface and the large-character interface patent algorithm can be selected, and it can be accurately measured under weak perfusion and jitter. It has a serial port function, which is convenient for system integration.
6. OLED display, no matter day or night, it can display clearly
7. Low power and long battery life, low cost
Related Products