New product recommendations:Medlinket disposable IBP infusion Bag
The scope of application of the infusion pressurized bag:
1. The infusion pressurized bag is mainly used for rapid pressurized input during blood transfusion to help the bagged liquid such as blood, plasma, cardiac arrest fluid enter the human body as soon as possible;
2. Used to continuously pressurize the liquid containing heparin to flush the built-in arterial piezometer tube;
3. Used for pressurized infusion during neurological intervention or cardiovascular interventional surgery;
4. Used for washing wounds and instruments in open surgery;
5. It is widely used in hospitals, battlefields, field and other occasions. It is a necessary product for emergency infusion and rehydration operations in clinical departments such as emergency department, operating room, anesthesia, intensive care and various invasive arterial pressure detection.
Medlinket's newly developed disposable IBP infusion bag is easy to use, safe and reliable. For single-patient use, it can effectively prevent cross-infection.
Medlinket's new product recommendation--Disposable infusion pressurized bag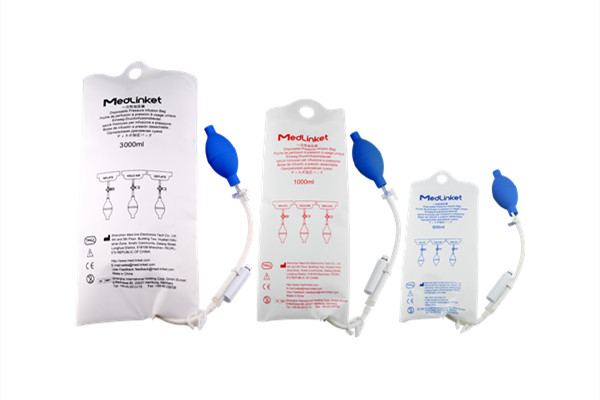 Product Features:
★Single patient use to prevent cross infection
★Unique design, equipped with Robert clip, avoid air leakage, safer and more reliable
★Unique hook design, safer to use to avoid the risk of blood bag or liquid bag falling off after the volume is reduced
★Longer inflatable ball, higher efficiency of inflation
★Over-pressure protection device to avoid excessive inflation pressure and bursting, frightening patients and medical staff
★ Transparent nylon mesh material, can clearly observe the infusion bag and the remaining amount, easy to quickly set up and replace the infusion bag.

Product parameters:

Medlinket has 17 years of experience in the industry, focusing on the R&D and production of intraoperative and ICU monitoring consumables. Welcome to order and consult~
Related Products