How to choose suitable disposable SpO2 sensor in different departments.
Disposable SpO2 sensor is an medical equipment accessory which is necessary for monitoring in general anesthesia and daily pathological treatment of severe patients, newborns and children. It can be used for monitoring vital signs of patients, transmitting SpO2 signals in human body and providing accurate diagnostic data for doctors. SpO2 monitoring is a continuous, non-invasive, quick response, safe and reliable method, which has been widely used at present.
Nosocomial infection is an important factor affecting the quality of medical care, especially in some key departments such as ICU, operating room, emergency department and neonatology department, where patients' resistance is low, and nosocomial infection is particularly prone to occur, which increases the burden on patients. However, the disposable SpO2 sensor is used by a single patient, which can effectively prevent cross-infection in hospital, not only meet the requirements of sensing and control in hospital, but also achieve the effect of continuous monitoring.
Disposable SpO2 sensor correspond to different applicable scenes according to different materials. According to the needs of different departments, Medlinket has developed a variety of disposable SpO2 sensor to meet the needs of patients in different departments, which can not only achieve accurate measurement of SpO2, but also ensure the safe and comfortable experience of patients.
In ICU of intensive care unit, because patients are seriously ill and need close monitoring, it is the most important thing to ensure that the probability of infection is reduced, and at the same time, the comfort of patients should be considered, so it is necessary to choose a comfortable disposable SpO2 sensor. The disposable foam SpO2 sensor and sponge SpO2 sensor developed by Medlinket are soft, comfortable, skin-friendly, with good thermal insulation and cushioning, and are the best choice for ICU departments.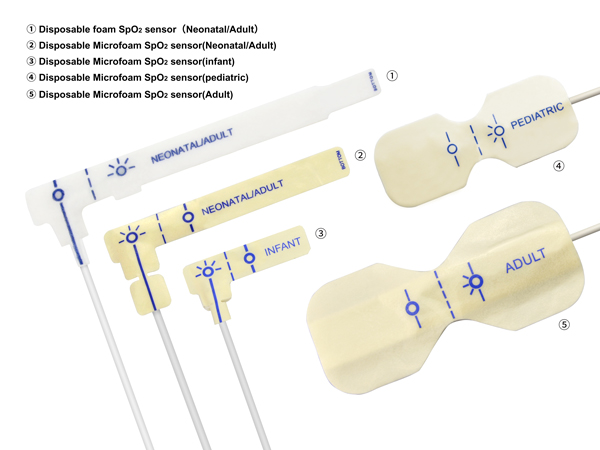 In the operating room and emergency department, especially in places where blood is easy to stick, it is necessary to create sterile conditions. On the one hand, to prevent cross infection, on the other hand, to reduce the pain of patients. Choose Medlinket's disposable cotton cloth SpO2 sensor, disposable elastic cloth SpO2 sensor and disposable transparent breathable SpO2 sensor. The non-woven absorbent material is soft and comfortable. Elastic cloth material has strong ductility and elasticity; Transparent breathable film material can observe the skin state of patients at any time; It is very suitable for patients with burns, open surgery, newborns and infectious diseases.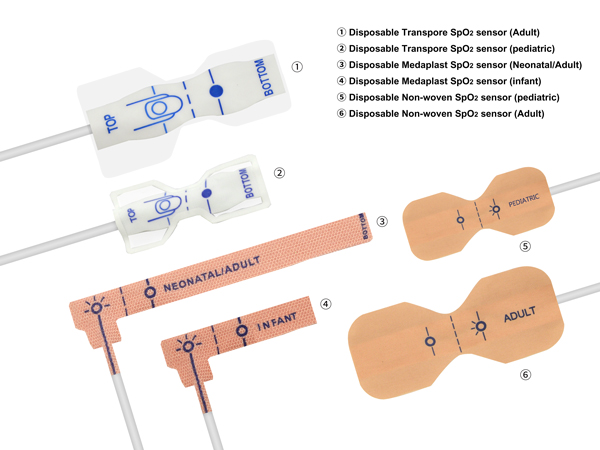 Medlinket Company is a high-tech enterprise focusing on providing high-quality accessories and consumables for intensive care unit and anesthesia surgery, and is committed to the world's leading expert in life signal collection, and has always adhered to the mission of "making medical care easier and people healthier". Therefore, we continue to create various medical products that meet the needs of customers and protect human health.
Advantages of Medlinket's disposable SpO2 sensor: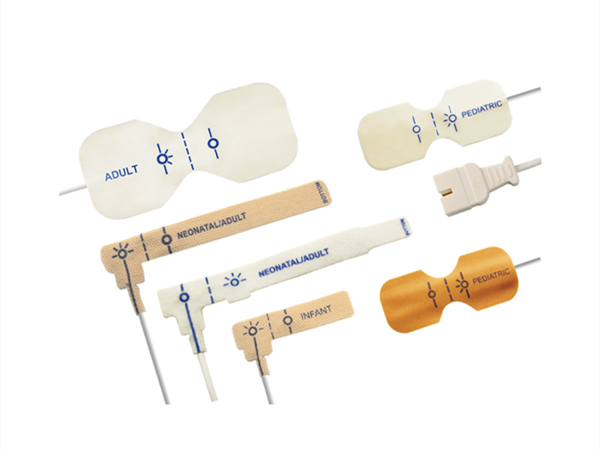 1.Cleanliness: disposable products are produced and packaged in clean rooms to reduce infection and cross-infection factors;
2.Anti-jitter interference: strong adhesion, strong anti-motion interference, more suitable for patients who love to move;
3.Good compatibility: Compatible with all mainstream monitoring models;
4.High precision: the clinical precision has been evaluated by three clinical bases: American Clinical Laboratory, Affiliated Hospital of Sun Yat-sen University and People's Hospital of North Guangdong.
5.Wide measuring range: it can be measured in black skin, white skin, newborn, elderly, tail finger and thumb after verification;
6.Weak perfusion performance: matching with mainstream models, it can still be accurately measured when PI (perfusion index) is 0.3.
7.High cost performance: our company is a big international brand foundry with international quality and local price;
Related Products