What types of oximeters are there? How to buy it?
Human beings need to maintain adequate oxygen supply in the body to maintain life, and the oximeter can monitor the SpO2 in our body to determine whether the body is free from potential risks. There are currently four types of oximeters on the market, so what are the differences between several types of oximeters? Let's take everyone to understand the types and characteristics of these four different oximeters.
Types of oximeter:
Finger clip oximeter, which is the most common oximeter used by individuals and families, and is also used in clinics and other medical institutions. It is characterized by its exquisiteness, compactness, and portability. It does not require an external sensor and only needs to be clamped on the finger to complete the measurement. This type of pulse oximeter is affordable and easy to use, and is the most effective method for monitoring blood oxygen levels.
The handheld type oximeter is usually used in hospitals and outpatient medical institutions or EMS. It contains a sensor that is connected to a cable and then connected to a monitor to monitor the patient's Spo2, pulse rate, and blood flow. Perfusion index. But its disadvantage is that the cable is too long and it is inconvenient to carry and wear.
Compared with finger clip pulse type oximeter, desktop type oximeter are usually larger in size, can perform on-site readings and provide continuous SpO2 monitoring, and are ideal for hospitals and subacute environments. But the disadvantage is that the model is large and inconvenient to carry, so it can only be measured at a designated place.
Wristband type oximeter. This type oximeter is worn on the wrist like a watch, with it sensor placed on the index finger and connected to a small display on the wrist. The design is small and exquisite, it needs an external SpO2 sensor, the finger endurance is small, and it is comfortable. This is an ideal choice for patients who need to continuously monitor SpO2 every day or during sleep.
How to choose a suitable oximeter?
At present, pulse oximeter have been widely used in many fields, so which oximeter is best to use? In different application scenarios, each of these four types of oximeters has its own merits. You can choose the appropriate oximeter according to your actual situation. Here are some things to pay attention to when purchasing an oximeter:
1. Some manufacturers' products come with a test card, which specifically checks the accuracy of the oximeter and whether the oximeter is working properly. Please pay attention to inquiries when purchasing.
2. The accuracy of the display screen size and clarity, battery replacement convenience, appearance, size, etc., should first be clarified. At present, the accuracy of household oximeter does not meet the diagnostic standards.
3. Look at the warranty items and other after-sales services and services, and understand the warranty period of the oximeter.
At present, the finger clip oximeter is the most widely used on the market. Because it is safe, non-invasive, convenient and accurate, and the price is not high, every family can afford it, and it can meet the needs of blood oxygen monitoring and is popular in the mass market.
Medlinket is a 17-year-old medical device high-tech enterprise, and its products have its own professional certification. Medlinket' Temp-Pluse Oximeter is a hot-selling product in recent years. Because its accuracy has been clinically certified by a qualified hospital, it was once praised by the mass market. The product provides warranty and maintenance. If the accuracy of the finger clip oximeter needs to be calibrated once a year, you can find an agent or contact us to handle it. At the same time, the product provides a free warranty within one year from the date of receipt.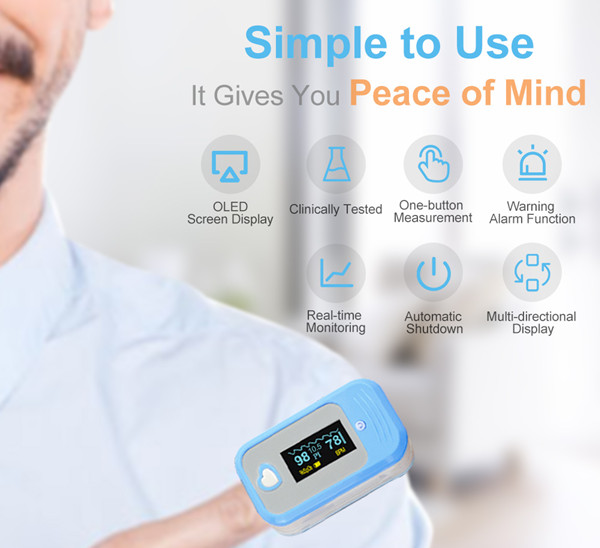 Product advantages:
1. An external temperature probes can be used to continuously measure and record body temperature
2. It can be connected to an external SpO2 sensor to adapt to different patients and achieve continuous measurement.
3. Record pulse rate and SpO2
4. You can set SpO2, pulse rate, upper and lower limits of body temperature, and prompt over limit
5. The display can be switched, the waveform interface and the large-character interface can be selected
6. Patented algorithm, accurate measurement under weak perfusion and jitter
7. There is a serial port function, which is convenient for system integration
8. The OLED display can display clearly regardless of day or night
9. Low power, long battery life, low cost of use
Related Products